About Alleppey Houseboat!
Alleppey, the paradise of boat houses!
You all have heard, "Kerala is truly a God's own country," haven't you? You can only witness that "godliness" of this southern tip of India if you have a liking for the beauty of pristine nature. Alleppey, aka Alappuzha, is one of the gorgeous travel destinations in Kerala where tranquil backwaters stretch to the horizon. Houseboats or boathouses as you may name them, which are the altered version of traditional "Kettuvallam," is the unique sight of Alleppey backwater. To explore the endless paddy fields, lagoons, and quaint villages of Kerala, the Alleppey boat house cruise is the best option.
Providing the best houseboat packages in Alleppey, Kerala, we ensure that you, as the valued guests of Kerala, enjoy a delighted backwater getaway in Alleppey reveling in houseboat cruises. Alleppey is well known for its timeless charm. Alleppey houseboat cruises always offer you breathtaking, scenic views of the adorable backwater and serenity of agrarian Kerala life. As the selfless advocates of unexplored Kerala backwater houseboat tourism, we are duty-bound to fulfill your typical "traveler desires" with unmatched Alleppey boat house packages.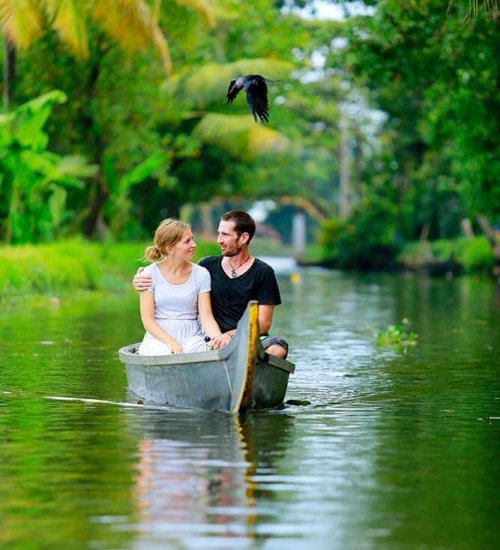 The backwaters of Alleppey are unpredictably beautiful with the ocean-like expanse that is fringed with tall coconut trees. Here, we ride our superior-quality boathouses that epitomize not only the international standards of tourism but also the warmest cordiality of Kerala hospitality. As the best Alleppey houseboat package providers in Kerala, we can give you shelter and cruises on "Budget Houseboats", "Deluxe Houseboats", "Luxury Houseboats", and "Premium Houseboats." These floating abodes will feature luxury bedrooms, a buffet breakfast, 24-hour support, a natural-view balcony, and free wifi. Let us take the privilege of making your Kerala boat house vacation memorable.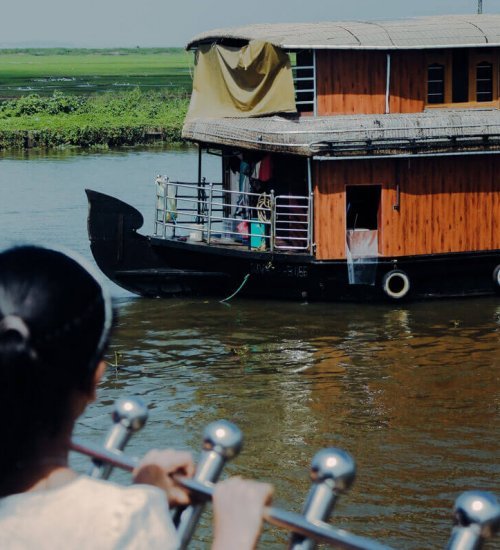 What does a normal houseboat Kerala itinerary look like?
We aim at quite a few ends by offering the ideal Alleppey boathouse packages. First, whether you are from or outside Kerala, you should feel the mesmerizing experience of drifting about on the gentle backwater stretch of Alappuzha catching glimpses of rustic banks. Replenishing your boat house stay with every possible Kerala element is also our goal. We will take you out on village exploring trips in Alleppey, show you the cultural offerings of Kerala, and introduce you to Kerala-style culinary culture.
Checking in usually happens around noon. Once you board, the vessel will pull out onto the vast tract of Alappuzha backwater, gently cutting across the water surface. Hurray! You just started your Alappuzha boat house expedition! You could see other boathouses passing by here and there, now and then. Meal times will be a grand spread of authentic Kerala dishes. The fried and stew versions of Pearl Spot fish, Karimeen as we call them, will be a must-have dish. The open space or balcony of the houseboat will be where you and your folks gather and have fun. Even the helmsman and your personal chef won't interfere in your quality time together.
Why we are the best Alleppey boat house service?
A background story to Kerala boat houses
Kerala houseboats (or boat houses of Kerala) are altered models of traditional "Kettu Vellams" that were used to freight goods such as rice, spices, and coir from Kuttanad to the Kochi port. At a time when road transportation was not that advantageous, the conveyance of goods on "Kettu Vellams" helped large-scale goods movement in the state. When time and tastes changed, and Kerala too entered the modern era, the "Kettuvellams" is one of a few attractions of Kerala that retained its olden time status and continued to amaze people.